google-site-verification: google081ac5ba5dcb64c6.html
"APRIL SHOWERS" PROMO

Book NOW and save up to $500.00 (8%-10%)*

off of your 2018 Event or

Get FREE LOVE RUBBED SHRIMP COCKTAIL ($6.95)

with your Full Service Pig Roast or Event!


*savings & free shrimp promo depends on event size & services purchased , Call for Details


Cannot be combined with any other discounts,

promos, one discount per event, no holidays or holiday weekends,

You must book by April 30, 2018


DATES GO FAST, Every year we have to TURN AWAY events because we are ALREADY BOOKED!

......."Flying Pig Roast ROCKED our barn wedding! Your Brown Sugar Glazed Peppered Bacon "Pig Candy" was a huge hit, we love you guys!
Thanks again, Melissa, One Happy Bride!"
Flying Pig Roast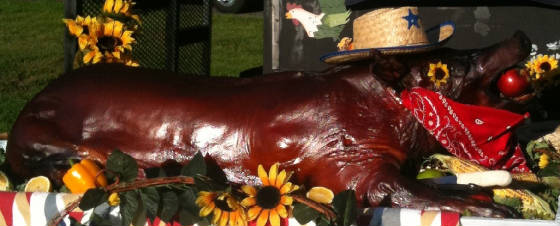 We only use fresh, all natural, pasture raised pigs, true farm to table catering.
Click here for a Sample 2017 Wedding Package
A Pig Roast should Start with the Best Pig Available, Shouldn't it?
At Every Pig Roast we cater, we hear the same comments
"This is the best tasting Pig Roast I have ever had! Why is it so good?"
Let us tell you why, Not all Pigs are Created Equal, We want to Educate you a little before we work with you . We are very proud of our pigs & our policies. Where does your pig come from?
Serving only Pasture Raised Pigs since 1988
Do you LIKE Flying Pig Roast? Spread the word!
Thank you to Everyone that took the time to help us reach 800 LIKES on Facebook!

10% DISCOUNT FOR MONDAY -THURSDAY EVENTS*
5% DISCOUNT on FRIDAY EVENTS*
*Off Food only, Sorry, No Discounts on Holidays, Holiday weekends, day before or day after

ASK ABOUT OUR FREE SHRIMP COCKTAIL PROMO!
Date Reservation must be confirmed with Deposit (We are flexible!)

(we reserve the right to change or withdraw the above offers without notice)
Barbecue, B.B.Q., Barbacue, Barbeque. Bar-B-Cue, BBQ, Bar-B-Q, Barbe a Queue, Barb-a-Q


No matter how you spell it,

Flying Pig Roast is your connection for....

"Competition Grade Pig Roast & Barbecue Catering!"
Free Shrimp? Yes, Free Shrimp! ! !
We Want You !
Let us know when your upcoming event is and we'll give you some unique & fun ideas for your special day.
Flying Pig Roast.com, Where Hot Pig and Cool Fun come together!









Flying Pig Roast offers competition quality Barbecue with Entertaining service. So get ready for some Hot Pig & Cool Fun!
Hope to see you soon!

Food Discounts & Special Offers

10% Off Monday - Thursday
Except Holidays & Restricted dates

Summer Saturdays Book Fast


5% Discount for AAA or AARP

5% Discount Fridays
Except Holiday Wknds & Restricted Dates

Kids 5 & under FREE, 6-12 1/2 price
Discounts & Promotions cannot be combined and are subject to change without notice
Reserve your Event date with a small deposit. Prime dates go Fast!
Call us Now to check date availability 315-703-3030